Continuing Medical Education Programs
Syntaxx Communications
Syntaxx: Your Experienced, Reliable Partner
Managing continuing medical education program logistics and content from start to finish is a daunting task. Furthermore, ensuring the program's content is vetted for commercial bias and incorporates engaging, interactive, and measurable learning methods that meet the accrediting body's requirements and the learner's educational goals can be challenging. We can help.
At Syntaxx, we aim to make the learning experience, whether a live conference or home-study activity, enjoyable but valuable. From the continuing medical education program logistics to the achievement of desired educational outcomes, our attention to detail ensures your program's success.
Our continuing education professionals take the time to gain a solid understanding of your continuing medical education program goals. As a trusted advisor, we help you discover and deliver the best solution for your continuing education needs.
Whether a live or home-study continuing medical education activity, we can assist you with:
Acquiring medical education grants/funding
Conducting needs assessments
Engaging and coaching speakers
Creating and producing collateral materials
Marketing and promoting the program
Managing end-to-end meeting logistics
Much more
Above all, we want the learning experience to be memorable and valuable for all involved.
Unbiased Continuing Medical Education Programs
Your colleagues expect continuing medical education programs to be applicable to their day-to-day practice and presented in an unbiased and non-commercialized manner. They want the latest research findings and continuing medical education credit that meets licensure requirements. We deliver this and more.
ACPE Certified Since 2002
Fully accredited by the Accreditation Council for Pharmacy Education (ACPE) since 2002, we continually strive to exceed the industry standards for successful continuing pharmacy education programs.
In addition to presenting accurate and informative content, we incorporate powerful medical graphic design, interactive technologies, and other tools to deliver stellar programs.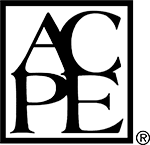 Strategic Healthcare Alliances
We also partner with trusted organizations to extend our continuing medical education program offerings to physicians, advanced practice practitioners, and nurses. These organizations are accredited by the:
These strategic alliances allow us to ensure compliance with these accrediting bodies and maximize the value of our programs to healthcare providers at a variety of levels.